The MUST-HAVE Kitchen Item For You To Make Delicious Cakes! 
Streamline the process of cooking, baking, and food preparation time with this Semi-Auto Adjustable Whisk! An excellent kitchen utensil, this whisk is a hand-operated semi-automatic whisk that saves time and effort without the use of electricity or battery. All you need to do is press its handle up and down to whisk effortlessly. It also has an adjustable head to make sure it fits bowls of different shapes.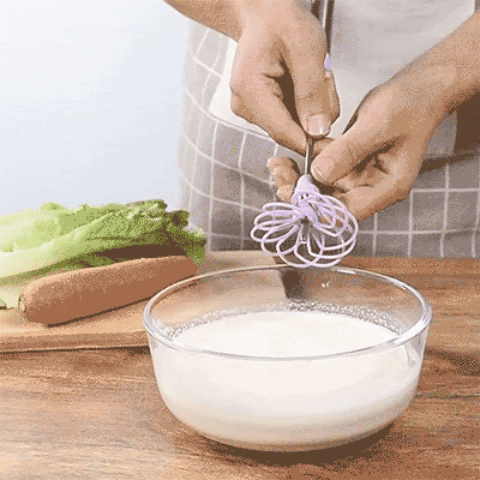 Features:
Easy to Use:

 

No more vigorous wrist spinning to mix ingredients. Just press the handle up and down and the whisk's head will start to rotate. It'll make frothing milk, beating eggs, mixing salad dressing, or whipping sauces, batters, whipped cream, and more an easy, fun, and satisfying task!

Non-Slip Grip:

 

The handle provides a secure and comfortable grip for any mixing task. No more tired or dirty hands which you usually get with manual mixing.
Adjustable Head.

 

The whisk's 10 wireheads are adjustable and can be retracted to fit containers of various shapes. Use it in any bowl, glass, pot, pan, pitcher, and more.
Safe and Durable.

 

 Crafted out of premium quality stainless steel and nylon, it's BPA-free and rust-resistant, making it completely safe to use on your food. It also won't easily break and guarantee to last for years with proper care.
Hassle-Free Cleanup and Storage. When it gets dirty, you can simply toss it at the top rack of your dishwasher for easy cleaning. Or you can even just rinse it with warm soapy water. You can keep it in your kitchen drawers or hang in kitchen racks for easy storage.
Package Includes: 1 x Semi-Auto Adjustable Whisk