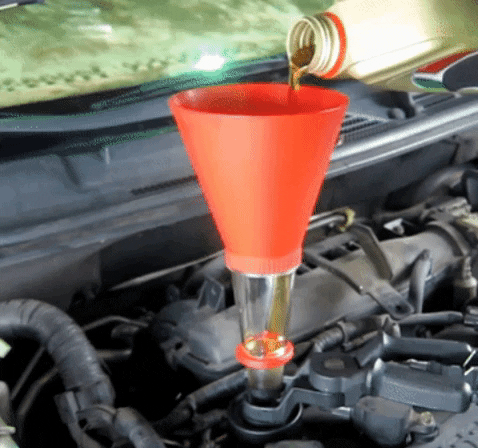 Sometimes standard funnel can be a pain while you are trying to fill in your engine oil, and they tend to spill without support. Well, here comes the mighty invention that will helps you to eliminate the problem-- the Universal Clip-On Funnel!!

It is a universal oil funnel that comes with a plier type clamp to support the funnel and fit into the oil filler neck. The clamp keeps funnel in position allowing the user to pour with both hands. The width of the clamp is automatically adjustable from 28mm - 74mm.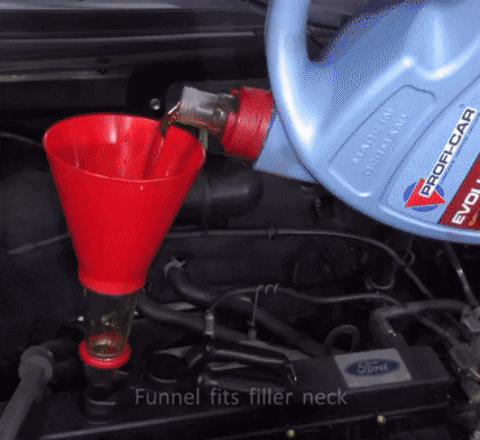 FEATURES:

Universal Application-

 

Perfect for any vehicle type, just insert it properly into the tank, pour the liquids and enjoy its leak-free, hassle-free, and tumble-free.
Super Saving-

 

No wasteful spilling or pouring. The funnel has a thread that fits perfectly in the clamp. It helps to prevent spillage and the ideal transparent lower chamber shows oil flow.
Detachable-

 

easy to replace and clean, allow to keep in odorless situation.
High Efficiency-

 

It can work smoothly on hard to reach areas. sturdy and corrosion-resistant funnel kit manufactured with a premium quality material, it lasts for years to help you on the road!
SPECIFICATIONS:

Material: Plastic
Color:

 

Red
Funnel Diameter:

 

12.5cm/4.92" (Approx.)